Insight Framework Overview
Framework arrangements are set up by Public Sector bodies (often called Public Buying Organisations (PBO's) with suppliers to provide goods and services according to certain requirements, e.g. price, quality and quantity. Frameworks can be arranged by one Public Body for either itself or a number of other Public Bodies.
Those bodies that are part to the Framework can then order (or 'call off') the goods and services when required. If there is more than one supplier, then a mini-competition may be held to identify the best supplier.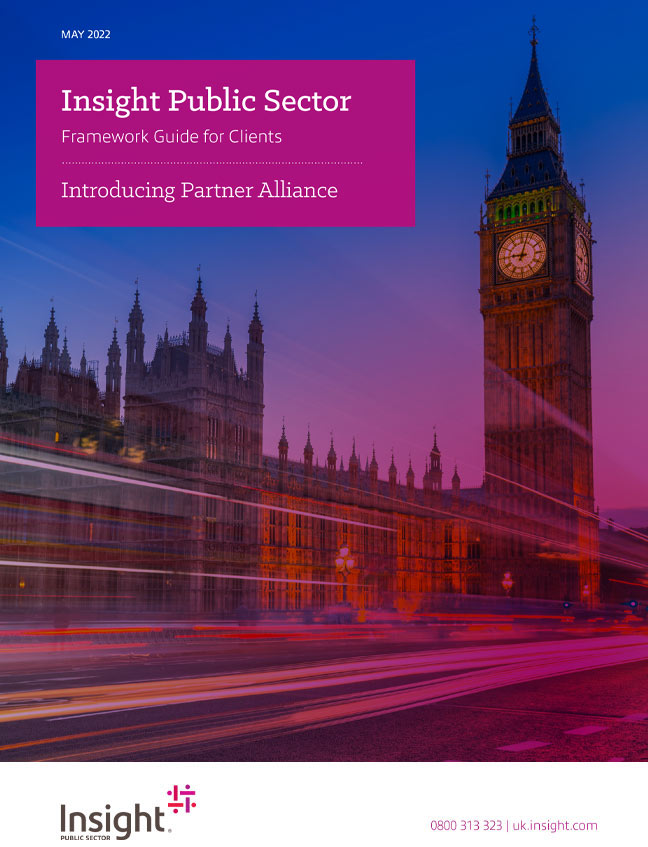 ---
Insight is proud to announce we have been awarded first place on the successor to the hugely popular HTE ICT Solutions framework, HTE ComIT 2 - ICT Solutions (2019).
The HealthTrust Europe (HTE) Information Communication Technology (ICT) Solutions 2019 framework for the provision of enterprise level ICT solutions has been created to deliver the most cost effective and simplest route to market for all ICT requirements across all public sector organisations. The framework comprises of a single Lot in order simplify purchases for hardware and software and allow easy identification of the most suitable suppliers for end to end solutions.
Insight Framework Matrix

Framework A-Z

Direct Award
Further Comp
HTE Complete IT Solutions 2
✔
✔
RM3804 Technology Services 2
✔
RM1557 G-Cloud 10 and 11 2019
✔
✔
RM3733 Technology Products 2 2016 Lot 1-5
✔
✔
RM3733 Technology Products 2 2016 Lot 6
✔
✔
RM3814 Vehicle Conversions DPS
✔
RM1043.5 Digital Outcomes & Specialists 3
✔
RM3821 Data Applications & Solutions
✔
RM6103 Education Technology
✔
Brunel University - POISE Framework 2016
✔
Client Devices Framework (Harrogate)
✔
✔
Crescent Purchasing Consortium (Desktop)
✔
Crescent Purchasing Consortium (Infrastructure) 2017
✔
Crescent Purchasing Consortium (Printers) 2016
✔
Crescent Purchasing Consortium (Software)
✔
✔
The Police, Fire and Crime Commissioner for Northamptonshire (EMSCU) ICT VAR Framework
✔
✔
Gateshead Council - IT for Schools Framework 2016
✔
✔
HEPCW Apple Framework
✔
JISC Adobe
JISC Web Filtering
✔
KCS AV & Client Devices Framework 2016
✔
✔
KCS Software 2016
✔
✔
KCS Software 2017
✔
✔
Liverpool City Council - Reseller Framework
✔
London Procurement Partnership - CDIS 2016
✔
✔
Manchester College - LTE Framework 2016
✔
NEPA – National Education Printer Agreement
✔
✔
National Framework for Wireless, Cabling (Harrogate)
✔
✔
National Procurement Service - Wales Framework
✔
NDNA – National Desktop & Notebook Agreement
✔
✔
NEUPC - Data Centre Ref: ITS2002NE
✔
NHS England - Health Systems Support Framework 2018
✔
✔
NOE CPC - LINK 2 2016
✔
✔
NOE CPC - LINK: Solutions IT 2016
✔
✔
NOE CPC - Network Infrastructure Framework 2018
✔
✔
North Yorkshire County Council - Hardware Framework 2018
✔
✔
OASIS Academy Schools Trust - Hardware 2016
✔
✔
Phoenix IOS
✔
✔
Phoenix ICT
✔
✔
ScotGov Cloud
✔
✔
SUPC ITRAP 2016
✔
✔
SUPC Server, Storage, Solutions National Agreement 2016
✔
SUPC Software Licence Reseller Agreement (SLRA) 2016
✔
Transport for London - Reseller Framework
✔
✔
Welsh Water Utility – Hardware Framework
✔
Yorkshire & Humber Police
✔
✔
YPO Datacentre
✔
✔
YPO Hardware
✔
✔