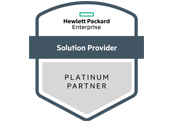 Get started with HPE
Hewlett Packard Enterprise delivers IT solutions exclusively designed for small to medium businesses.
Insight's Cyber Security Practice provides expert guidance to clients as they embark on their cyber security journey. From Security Posture Assessment through to the achievement of desired security state, at Insight, we focus on client-centric security options. Our vendor agnostic security advice and consultancy supports all stages of security evolution. Whether it's for a Professional Service, Technology, Software, Incident Response and/or Lifecycle Managed Security Services, we are here to help at every stage of your journey.
Contact us to find out how we can work together to protect your organisation.